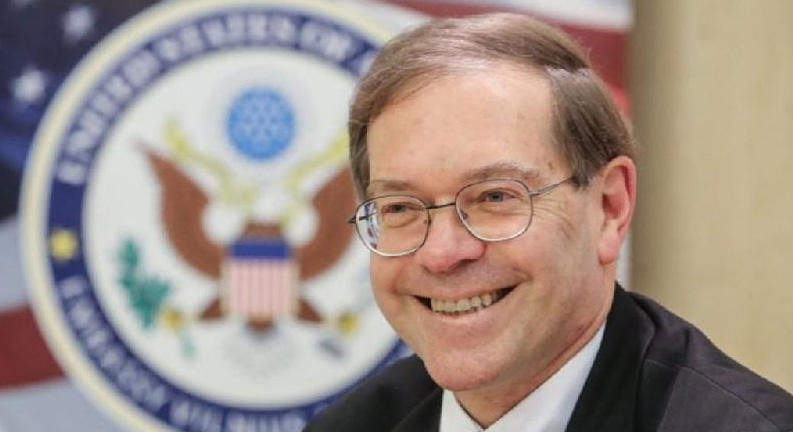 Newly appointed US Ambassador to Azerbaijan Earle Litzenberger visited the Washington-based US-Azerbaijan Chamber of Commerce (USACC).
Participants in the event included USACC member and partner companies, officials of the US Administration, including the Department of State and other government agencies, and representatives of diplomatic missions, business and analytical circles accredited in Washington.
In his opening remarks, executive director of the Chamber of Commerce Natig Bakhishov congratulated Ambassador Litzenberger on his new appointment.
Addressing the event, former US Ambassador to Azerbaijan Robert Cekuta highlighted his diplomatic activities in Azerbaijan, describing the country as the key strategic partner for the United States in the region.
Azerbaijani Ambassador to the United States Elin Suleymanov expressed hope that Litzenberger's diplomatic tenure will contribute to the development of friendly relations between the two countries.
Ambassador Litzenberger thanked for the congratulations. Describing Azerbaijan as a reliable partner for the US, the ambassador said that he will spare no efforts to contribute to the development of friendly relations between the two countries' peoples during his tenure.
The United States established diplomatic relations with Azerbaijan in 1992, following its independence from the Soviet Union. Together, the two countries work to promote European energy security, expand trade and investment, and combat terrorism and transnational threats. The United States is committed to strengthening democracy and promoting economic diversification in Azerbaijan. The US supports efforts to peacefully resolve the Nagorno-Karabakh conflict and promote regional stability, peace, and prosperity.
Azerbaijan and the US have a Trade Relations Agreement and a Bilateral Investment Treaty. The governments periodically convene the U.S.-Azerbaijan Economic Partnership Commission to discuss bilateral cooperation to promote trade and investment.
The US is one of the key trade partners of Azerbaijan. Presently, 240 U.S. companies operate in industry, construction, communications, banking and other spheres in Azerbaijan.
Until now, the U.S. has invested $ 13 billion in the Azerbaijani economy and more than $ 1 billion was invested in the non-oil sector.